Valentine's Day is a short, but sweet way to ponder passion, desire and romance; so how can the flame of love hope to brightly burn through this very cold winter?
Here's my fashion answer to that question about Valentine's Day love and lingerie, that I thought you might truly enjoy.
Recently, I had the opportunity to speak with Portland fashion and textile designer, Rio Wrenn, about this topic, and about her lingerie collection for women of all shapes and sizes.
Together with the creative team of Hart Portland art directors, fashion stylists and flower power enthusiasts, Jill Mason and Kate Hart, (WeAreHart.com) Portland photographer, Travis Geny, hair and make up designers, David Yu and Janelle Hayden, we set the studio on fire with the "Look of Love in All Shapes and Sizes Lingerie Shoot," with models Alina Phillips, Christine Shield, Favour Kibali, Vanessa Meier and Natasha Ward.
Wrenn of Raw (R A W) Textiles says, "I am a visual artist, textile designer, belly dancer and nature lover."
Okay, let's start today's fashion story about love in all shapes and sizes. What do you think about that statement, and how does it work with your lingerie designs for the female body?
Yes, that is so true. That statement goes very well with my processes and attitude towards life. When I started making lingerie, I wanted the samples and models to be a mix of small and large. That, of course, is defined by industry standards.
My muse is curvy and confident. We are all basically the same on the inside, yearning for love, and our body is just a shell. As far as my process of dyeing textiles goes, and my conceptual vision -- I transform decay and use unconventional objects to manifest beauty.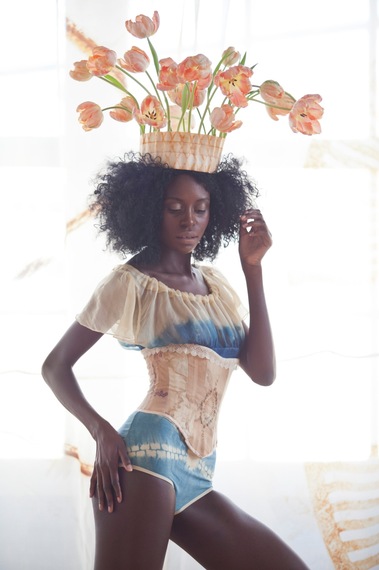 Photography by Travis Geny, hair and make up by David Yu, art direction by fashion stylists Jill Mason and Kate Hart for Hart Portland, and modeled by Favour Kibali.